[Seaworthy News 695, March 2020]
Traveling by Tramper - for the True Aficionado
Tramper, in contrast to the liner, operates without a schedule, going wherever required to deliver cargo. She is a descendant of the early merchant ships whose masters (who were also their owners) loaded them with cargo at home to sell abroad, and vice versa. Today, ships in various sizes, commonly 40-150,000 deadweight tons, sail worldwide carrying in holds below deck loose grain, iron ore and other mineral ores as well as final products like steel, paper etc. - very few take passengers.
One possibility to experience such an adventure is to
Win a voyage on a Great Lakes freighter
Lakers also sail from one cargo contract to another between the ports on the lakes and down the St. Lawrence River. They are not certified to carry passengers for hire, but can take guests, family members and company's customers. For the general public they offer a chance to win a voyage. Ten-dollar tickets are sold through nonprofit fundraisers to benefit maritime museums and other institutions.
Drawings are several times per year (currently discontinued due to Covid) - Have an eye on the news and apply through the Great Lakes and Seaway Shipping - the grand prize is usually a trip for 4 adults aboard a laker during the following summer. Guests must adhere to all policies and procedures. Logistical details like specific ship, route, travel dates, length of voyage, departure port and destination are all things you'll have to coordinate with the company. Cargo takes priority - you're just coming along for the ride.


Sail from Montreal to a destination in upper Great Lakes, or vice versa -
either way the voyage lasts approx. 6 days.
The laker above just entered the Seaway through St. Lambert Lock in Montreal, part of the oldest and most traveled inland waterway in America - a 2,300-mile corridor that connects the Atlantic Ocean with all five Great Lakes and the Mississippi River. Since deep draft navigation opened on the St. Lawrence in 1959, lakers and ocean freighters deliver 180 million tons of cargo to and from the lakes annually. Most of it goes to or comes from electric utilities, steel mills, construction companies, mining companies, factories and farms. Because a freighter can transport a ton of cargo 576 miles on a single gallon of fuel - compared with 413 miles by train or 155 miles by truck - shipping is often a greener way to move freight and people as well.
Between the Iroquois Lock and Lake Ontario is a 50-mile long stretch of Thousand Islands, many of which were retreats for business moguls and movie stars during the Gilded Age. Singer Castle's 60-foot walls and terra-cotta roof, built by Frederick Gilbert Bourne of the Singer Sewing Machine Company. A couple of miles farther, you pass within a few hundred feet of another castle built by George Boldt, proprietor of New York City's original Waldorf Astoria, and Deer Island, a retreat for Yale's Skull and Bones club.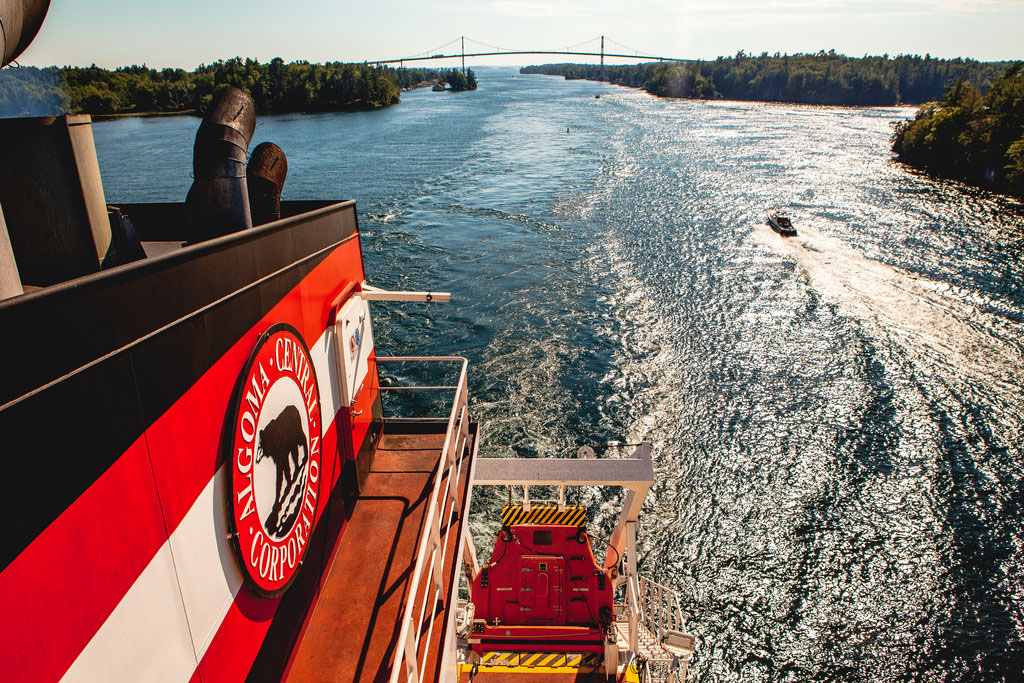 "From the bow, Lake Ontario looked like an endless silvery horizon. The air was still and the view ahead was so wide I could see the curvature of the earth.

By the time I woke up the next morning we have crossed Lake Ontario and cleared two locks in the Welland Canal - an engineering marvel that circumvents Niagara Falls. The first Welland Canal was dug between Lake Erie and Ontario in 1829. The current one lifts ships 326 feet up the Niagara escarpment over 27 miles and eight locks.

Captain let me off at Lock 3 and told me I had six hours to explore Niagara, before reboarding at Lock 8. I climbed a rope ladder up the lock wall and walked to a cab that took me to the Table Rock Welcome Center on the Canadian side of the falls. A rock wall with an ornate steel railing held back 1,200 humans gazing at the second-largest waterfall on the planet. It is a strange thing to see a wonder of the world in the flesh after gazing at photos of it 1,000 times. I spent a half-hour watching the river wend around rocks and submerged logs, then accelerate and shoot forward, cascading, ricocheting and vaporizing into a white cloud of mist before coalescing into a cushion of foam" - Excerpt from the NY Times article, August '16, by Porter Fox


Past Sault Ste. Marie ("Rapids of Saint Mary")
between Lake Huron and Lake Superior
Thanks to the support received from our customers, as well as from the steamship lines and media, including the following comments, today's Maris is one of the leading independent freighter cruise specialists:
"Maris is sailing with fair winds and following seas under your command."

John Carrick
Editorial writer
Sydney, Australia
Sep/99
"Q:

It has always been my dream to take a long voyage on a cargo ship. Can you tell me if this is possible any more?

- A:

Maris in New York offers such voyages on a daily basis."

Sunday Times
London
July 1/01
"Maris Freighter Cruises website, as well as the newsletter which illustrates itineraries, ships, prices etc., is a good place to learn about this type of cruise and travel."

New York Times
May 18/03
"We are very appreciative of the work you have undertaken on our behalf for many years and the effort you have put into making our passenger service a success ... Our sincere and grateful thanks."

Richard Mellor
P&O Nedlloyd
London
Jan/05
"As a faithful reader of your Seaworthy News publication, I wish to compliment you and your staff on the informativeness and thoroughness, setting forth in honest and detailed manner descriptions of this means of travel."

Martin Ems
Retired Manager Passenger Services,
American President Lines - Feb/07
"I just wanted to send you my thanks for the beautiful news publication you produce all these years. I hope you'll keep freighter travel as your primary focus always, as it sets you apart."

Alison Senter
(Member since '95)
New Lisbon, NJ
Jan/10
"Since 1971, when my three young children and I travelled up the West Coast of Africa, I have had the pleasure of occasional freighter voyage. A wonderful way to see, and enjoy the peace of the watery parts of, our world. Thank you so much and your family for choosing to run your freighter cruise agency."

Jean Washington
San Diego, CA
Apr/2016
"Hopefully, when the dust (and Covid) has settled, we'll be able to envisage a new adventure. With renewed gratitude for your unfailing support and guidance, kindest regards."

Jacques Carrio
Vienna, Austria
Oct/2020
Become a member of Maris Freighter Travel Club Int'l -
or give a gift membership


Take advantage of the knowledgeable advice that comes from our vast experience. Find the freighter voyage that's right for you and you'll get an automatic discount, up to $800, depending on the steamship line and length of voyage. Please see the Special Discounts page.
To subscribe simply pay the fee by credit card.

You'll also receive our online newsletter called Seaworthy News, featuring passenger firsthand stories and news, issued periodically as it happens. It's a well-illustrated e-mail publication often being the only one available anywhere for many of these voyages.



The same low price (in USD) is valid internationally.

By placing your order, you agree with our

Terms