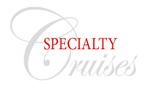 Cargo Liners, Mail and Supply Ships,
Vintage Cruisers, etc.
The custom-built Aranui 5 of CPTM (Compagnie Polynesienne de Transport Maritime), a specially-designed cargo liner built with passenger comfort in mind, offers tasteful, spacious accommodations, sweeping decks, an outdoor swimming pool, a gym and facilities for ocean swimming, fishing, snorkeling and scuba diving.
The service is renowned for its friendly atmosphere, fine French and Polynesian cuisine, informative onboard lectures as well as for the raw beauty of its destination, the spectacular Marquesas islands.

More info
"The small vessel gets into the narrow fjords of Greenland and Labrador, providing its passengers with views of glaciers and the beautiful landscape shaped by the last ice age.

Along the spectacular and rugged coastlines, the low vegetation reflects autumn and covers the ground with a velvety carpet of various colors offering images of breathtaking beauty. And the varied wildlife sightings are equally attractive and exciting.

The ship offers adequate accommodations. Cabins are clean and comfortable. There is a gym to work off the calories from the delicious meals served onboard - a nice health feature.

A packed lecture hall indicated how much passengers enjoyed learning about local culture, ecology, geology, wildlife and other relevant topics. The lecturers were all very knowledgeable, enthusiastic and friendly scholars. Ships officers and crew were also very friendly and helpful all working very hard to make the cruise thoroughly enjoyable." - Damian Law, Eastchester, NY

Maris Club offers its members a special discount on these voyages.



More info
Retro Med: Cruise Croatia
Vintage coastal trading boats once delivered supplies to the islands off Croatia's 1,100-mile coastline. Repurposed to accommodate guests, these 20- to 40-passenger vessels now ply the Adriatic at a more leisurely pace offering a selection of one- and two-week roundtrip voyages on the Northern, Central and Southern Adriatic. Stop at medieval walled towns, orange-roofed fishing villages, vineyards, and pebbly white beaches or savor The Classic Med scenery at anchor.
~ National Geographic Traveler, Tours of Lifetime 2011.
A selection of 7-day cruises is available from early April until late October at fares ranging between EUR 325 - EUR 1,790 per person double occupancy, depending vessel category and month, July and August being the most expensive. Combinations of two back-to-back cruises covering most of the coast are popular as well as the Tour-and-Cruise packages. Direct daily flights are available from most major European gateways to departure ports, as well as Zagreb, Capital city of Croatia.

More info
FAQ and General Information

Classic Voyages Through Majestic Fjords



The history of Norwegian Coastal Voyage has evolved to the point where, today, thousands of people come from across the globe to sail what has been called The World's Most Beautiful Voyage and to explore local communities and meet their local residents; they're easy to chat with - just about everyone in Norway speaks fluent English.

There's the added charm of traveling on Hurtigruten vessels that, while affording all the comforts of a cruise ship, still carry cargo to 34 ports of call every day, all year round. Equally quaint is the occasional arrival of a local passenger, hopping a ride from one coastal town to another.
Voyage in one direction takes 6-7-days, roundtrip 11 days, includes 34 ports. Those called at during the day on the northbound voyage are called at during the night on the southbound voyage, and vice versa.

One way cruise only options start at US$1,399, and 12-day roundtrip voyage at US$2,299 per person. Rates vary considerably, depending on cabin and season.

Assorted packages, including overseas flights, hotels, port tours as well as a tour in Oslo and trips between Oslo and Bergen or Kirkenes, are also available.

More info


THV Patricia


The Trinity House Vessel

Patricia

is a working ship offering passengers an opportunity to view the day-to-day activities she undertakes on her regular rounds of lighthouse, lightship and navigational buoy maintenance around the coasts of England, Wales and the Channel Islands.
| | | |
| --- | --- | --- |
| Harwich, on the East Coast, is cosidered her home port. Depending on the time of year passengers will be able to view the various parts of the coastline from a unique viewpoint. It is possible to go ashore only occasionally. | | |


High quality service and accommodations are offered for 12 passengers in six double-bedded cabins. Each cabin is individually designed with en-suite bathroom and furnished with a TV set and Internet connection.

Weekly tours start from £1,540 per person, double, £1,990 single occupancy.

More info
RMS St. Helena

The Royal Mail Ship St. Helena offers voyages from Cape Town, South Africa to the British Overseas Teritory of St. Helena, a tiny island within the tropic of Capricorn in the South Atlantic.

Roundtrip voyage takes 22 days, and one way voyages, between Capetown and Ascension Island via St Helena Island, take 11 days.
Passenger accommodations for 128 are among the most modern available today. All the officers, hotel staff and crew are very friendly. Part of their function is to help you enjoy your time on board. Every senior officer hosts a table at dinner, so you are able to get to know them well over the course of the voyage.

Roundtrip fare for a standard side-facing cabin is £2,506 per person, double occupancy.

More info
| | |
| --- | --- |
| These Italian "car and container carriers" take passengers on regular and frequent sailings from Northern Europe to the Mediterranean, South America and West Africa. | Grimaldi Lines |
All accommodations and common facilities, such as dining room, TV/bar lounge, a small exercise room and self service laundry are located on the Captain's Deck, one below the bridge.

The most popular 35-day Mediterranean voyage, departing weekly from Southampton, UK, calls at Savona, Civitavecchia and Salerno, Italy; Piraeus, Greece; Izmir, Turkey; Ashdod, Israel; Limassol, Cyprus; Alexandria, Egypt; Setubal, Portugal; Portbury, UK; Cork, Ireland; Esbjerg, Denmark; Wallhamn, Sweden and Antwerp, Belgium.

The fare varies from €1,683 pp for an inside upper- and lower-berth cabin to €3,366 pp for the side-facing double bedded Owner's cabin.



Port times vary according to cargo requirements; it can be a short call or a long one, during the day or the night.
Nevertheless traveling on these Italian freighters will provide you with many pleasures. You'll become a part of a team and enjoy your voyage on the high seas.

More info